Home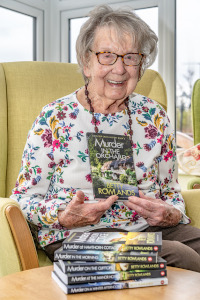 For as long as Betty can remember she has had a compulsion to write. It was after her three children had grown up that she began to write a series of case studies for use as teaching material whilst she was working as an ESOL (English for Speakers of Other Languages) to business executives. These were eventually published in a series entitled "Management English'.
This seemed to rekindle the creative spark and she began writing short stories, some of which were published. The next step was a full-length novel, which brought her into contact with the agent who advised her to try her hand at a whodunnit. Thus, Betty burst on to the crime scene in her mid-sixties and Melissa Craig was born.
Melissa, the beloved intrepid sleuth, is the main character in Betty's bestselling twelve-book series. "She walked into my head fully formed," says Betty. "My settings have been suggested by my own surroundings: the Gloucester village where I lived with my husband."
The Melissa books were followed by a thirteen-book series with Sukey Reynolds, initially a Scene of Crime Officer. These twenty-five cosy crime novels were published in the 1990s and early 2000s and although well received at the time, many had fallen out of print by the time Bookouture acquired Betty's backlist in 2018.
Following the rebranding of both of these series by Bookouture, Betty, now aged ninety-six, has become a top-thirty bestselling Amazon UK author and a number three Amazon Canada bestseller. All of the Melissa Craig books have hit the UK top 100. Across all formats the rebranded books sales have topped 345 thousand!